About
Mapstor.com exists for more than 10 years. In 2003 the team scanned and georeferenced a number of maps of the Eastern Europe. In 2006 we recovered, unified names and georeferenced more than 10 000 maps issued in the USSR. In 2010 were added more than 15 000 maps. In 2014 we reorganized the project and started to add historic maps issued by various countries.
Our Activity
Rename maps in unified name format
Edit map image by removing background of the paper, seams of glue when putting parts together, retouch blemishes and other artifacts not related to the actual map, remove fields with descriptions and other repetitive from map to map data, optimize image
Remove duplicates of the same map sheet (often maps are reissued without change)
Set the definition area of maps (longitude and latitude angles) and the year of creation
Make a georeferenced file (4 or 9-points)
Provide access to maps in the form of sets grouped according to territory (countries and regions), which include maps and georerefenced files.
Before recovery After recovery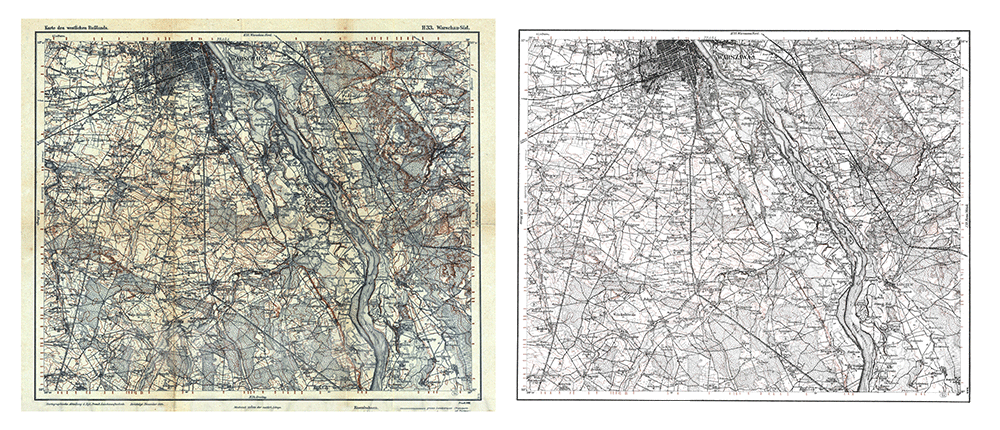 Our Goals
Gather in one place all historical maps published by different agencies down to the time of the digital era
Make the maps compatible with modern geographic programs and devices (actually provide georeferenced to the terrain file)
Provide quick and cheap access to maps (about 5 cents per map, which is 100 times less than can be found on the network).
You can also refer to the following pages: