14th November, 1963 the island Surtsey was founded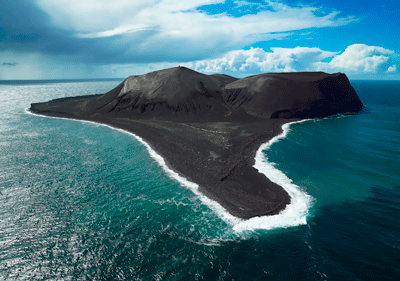 Surtsey is an uninhabited island in Iceland, in the southernmost point of the country, a World's Natural Heritage.
A few days before the appearance of the island at a depth of 130 meters began the eruption of underwater volcano to the south-west of the island Vestmannaeyjar. Prior to June 1967 there were about a hundred eruptions, after which was formed the island with the area of 2.7 km². But then, erosion and leaching of the waves reduced the area of the island to 1.5 km² in 2000.
The island was named Surtsey, which in Icelandic means "island of Surt," in honor of the lord of the fire giants. Besides the main island, several small islands were formed.
Surtsey consisted only of volcanic pumice, however, attracted the attention of scientists around the world, as his example could keep observing the emergence of life on the island. Access here "for the purity of the experiment" was limited.
Scientists have determined that bacteria and other microorganisms settled on Surtsey in the first hours of the appearance.
Gradually plant began to appear. First there were mosses and lichens, which were already on the island in 1965. In the mid-1980s there were more than 20 species of plants, and in 2008 the island encountered 69 species of plants.
Surtsey lies on the way of overshooting of many species of birds. Of course, the birds are migratory, and that living on Vestmannaeyare land, fertilize the soil of the island, which, apart from organic and mineral substances contain not digested seeds plants that contribute to the spread of new species. Studies have shown that about 75% of the seeds were brought to the island by birds, 14% - by the wind, yet 11% - water.
Surtsey - one of the few islands that have emerged in modern times, and perhaps the only one on which with the first onset of hard rock above sea level scientists started to conduct research.
This Day in History
14-11-2014