5th November, 1885 was born Francis Kingdon Ward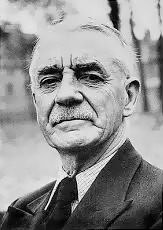 Francis Kingdon Ward - British explorer and botanist in East Asia, the lead expert on collecting plants.
Francis Kingdon Ward was born in the village of Whittington Lancashire. His father was a long time professor of botany at Cambridge University. Frank studied at St. Paul's School in London, and then entered the College of Christ. Due to the death of his father, Frank graduated from college a year before the end of the course, and agreed on the first job of a school teacher in Shanghai. In his spare time, Ward, was not particularly interested in teaching, but he constantly traveled to Java and Borneo. Two years later, he got the opportunity to join American zoological expedition in the Yangtze and Tibet.
In 1910, Liverpool landowner Arthur Kilpin Bully hired Kingdon-Ward to collect hardy plants in China. In 1911, Kingdon-Ward during his first single expedition to China for the first time discovered a thicket meconopsis Meconopsis speciosa. In 1912 he returned to England and was soon elected to the Royal Geographical Society. In 1913 he again went to China.
During the First World War, Kingdon-Ward served in the Indian army, ending the war with the rank of captain. After the war, he spent some time trying to organize his own nursery in England, but failed, and in 1921 again went to Asia. In 1923 he returned and married Florinda Norman Thompson.
In 1924, Kingdon-Ward went on an expedition to the sources of the Brahmaputra, from childhood he dreamt to find legendary huge waterfalls. This expedition, which passed over vast untouched areas, revealed, that the waterfalls at the sources of the Brahmaputra in reality do not exist. In 1927, Frank climbed Mount Yapvo in Assam, in 1929 traveled to Laos. In 1933, with the support of the Royal Horticultural Society Kingdon-Ward once again traveled to Tibet (his way around a thousand miles) and brought to England hundreds of species of plants.
During World War II, Captain Ward worked in the British Special Operations Executive in Burma, then he was engaged in training pilots to survive in the jungle. After the war, with the support of the USA Francis went in search of downed aircraft in China and India. During one of these trips, he discovered a rare decorative lily, Lilium mackliniae, later named in honor of his second wife, Jean McLean.
Since 1948, Frank and Jean Kingdon-Ward made 6 botanical expeditions. In 1956, 71-year-old Kingdon-Ward climbed Mount Victoria - one of the highest points of Burma.
This Day in History
05-11-2014