6th June, 1868 Robert Scott was born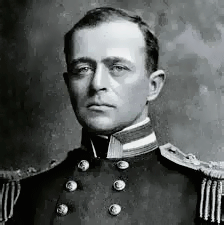 On the 6th of June, 1868 in Davenport (United Kingdom) polar explorer Robert Scott was born. This man went down in history as one of the pioneers of the South Pole.
At the age of 9, Robert Scott began teaching at a school for boys, which prepared young sailors. Later, he entered the Naval Academy.
In 1881, Robert Scott has successfully passed the exam and became a cadet.
In 1900began the National Antarctic Expedition led by Robert Scott. In the course of navigation he studied previously unknown glacier and made a number of discoveries. In 1904 Robert Scott was awarded the rank of captain. In 1909 he organized an expedition to Antarctica to continue research.
At the end of 1910 ship "Terra Nova" sailed off from New Zealand. Researchers have landed near their previous base at McMurdo in January 1911. During the year the squad carried out mainly hiking trials and organized a large warehouse on the way to the Pole.
The map of the expedition shows what Scott has achieved. "Warehouse per ton" was at a distance 200 km from the base. On the 1st of November, 1911, Scott, along with four researchers went to the South Pole. On 18th of January, 1912 they were able to achieve this goal. However, at the South Pole they were disappointed –they found a note that a month Roald Amundsen was there.
The way back was an insurmountable obstacle for researchers. Due to the severe weather conditions two people were killed. Scott, along with Bowers and Wilson managed to get four more short transition, but they didn't manage to return home. They all died in a tent at a distance of 20km from the warehouse. The last entry in Scott's diary is dated March 29th. Tent with the bodies of the pioneers, their maps and diaries were found in November, 1912.
According to the memoirs of contemporaries Robert Scott was an intelligent, energetic and purposeful. He was distinguished by qualities such as high self-control, compassion, good memory and amazing performance.
Now on the world map you can find the island, the polar station and two glacier named in honor of Robert Scott. In some countries, in honor of Robert Scott authorities erected memorials.
This Day in History
06-06-2013