7th September, 1856 the Saimaa Canal was opened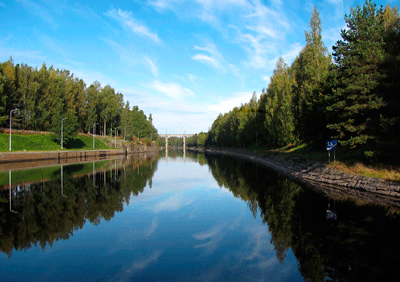 On the 7th of September, 1856 in the day of the coronation of Emperor Alexander II was the grand opening of the Saimaa Canal. Geographic map shows that with the total length of 57.3 km navigable canal connects Lake Saimaa (Finland) and the Gulf of Finland (region Viborg).
Work on the construction of the canal began in the reign of Nicholas I in 1845. And have been completed, when the throne belonged to his son. Not surprisingly, on the shore of the Finnish part of the channel to this day there are two granite slabs with the names of two Russian rulers.
Saimaa Canal appeared on the world map in 1856 and became a symbol of economic growth in Finland. Construction costs have paid off in 25 years and met the boldest forecasts. It is noteworthy that the construction of the canal cost more money than the annual budget of Finland.
Capacity of the canal is 11,500 river, lake and sea vessels per year. However, in 1923 the Saimaa Canal was 13,000 ships with a total weight of cargo up to 1,000,000 tons.
Political map of the world demonstrates that the channel is divided between two states: one part (23.3 km) belongs to Finland, and 19.6 km - to Russia. At the same time Finland leases the Russian part of the canaland pays for it 1.22 million euros per year.
This Day in History
07-09-2013