8th May 1898 Joshua Slocum completed the circumnavigation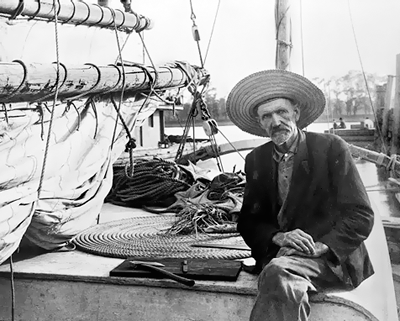 On the 8th of May, 1898 American sailor Joshua Slocum reached the point of his voyage start. Thus was completed the first ever single round trip.
Joshua Slocum served for many years as a sea captain on sailing ships. When the era of sailing ships was completed, he took a resolute decision to make a circumnavigation alone. Slocum remade his overage sloop in strong yacht "Spray", length of 11 meters and a width of 4 meters. It took him a year.
On the 24 of April, 1895 Joshua Slocum at age 51 on his yacht came from Boston. On the road he took the lantern, which could light the way at night, fishing tackle and iron stove for heating and a cooking cabin. It took 3.5 years to go 74,000 miles, circumnavigating the globe in June 1898 in dock at Newport (on a map, you can see that the city is located in the state of Rhode Island).
On the world map you can trace the route of this impressive swimming. "Spray" set sail from Boston, then proceeded to Fayalu (Azores archipelago), followed by Gibraltar, Canary Islands, Cape Verde, Pernambuco (state of Brazil , Recife), Rio de Janeiro, Montevideo (capital of Uruguay), Gulf of St. Jorge, the Strait of Magellan, the island of Juan Fernandez (a group of islands in the composition of Chile). Thence toward Slocum Markizkim islands further - to the islands of Samoa, Fiji Islands, the island of New Caledonia, Newcastle, Sydney, Bass Strait, Melbourne, the island of Tasmania. Further along the Australian coast he swam to Torres Strait, headed to the Arafura Sea, further to the Cocos Islands, and then visited the island of Rodrigues, Mauritius , Durban, Cape of Good Hope expired, Saint Helena, Ascension Island, the island of Fernando de Noronha, the island of Trinidad island of Dominica, New York.
Two years later, Slocum published a book entitled "Circumnavigation alone" in which he described his adventures. Slocum has been gaining popularity and recognition, largely due to his book. Particularly interesting he describes the mental state of the person who turned one on one with the ocean. Fearing that the long silence may cause loss of speech and lead to a mental disorder, Slocum talked a lot, and gave himself orders reported on their performance, sang songs.
In November 1909 Slocum sailed from the island of Martha's Vineyard, headed for South America and went missing. If you look at a map, you can see that the route passed close to Bermuda. Therefore, the disappearance of Slocum is often associated with the Bermuda Triangle mystery. According to one of the assumptions navigator could die on the way due to their advanced age (at the time he was 65 years old), and uncontrolled ship sank. Also it could be an accident and the yacht could face big ship ... But for a fact nobody knows.
This Day in History
08-05-2014