8th July, 1819 was born Frances McClintock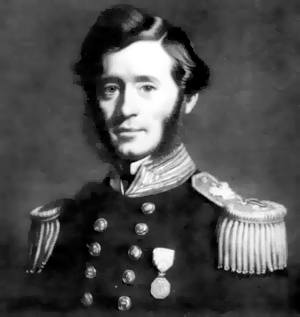 On the 8t of July, 1819 was born Francis McClintock, Irish explorer, Admiral.
At the age of 12 he volunteered in the Royal Navy.
In 1848 he went in the expedition of James Ross Strait to Barrow. A year later, together with a group of Horace Austin wintered on the island Prince of Wales, where covered a distance of 1300 km on a sleigh. This man became the first in the history of Western Europeans who guessed to use Eskimo sled with a dog team. During these toboggans McClintock researched and compiled a map of the coast of Melville Island. Topographic map shows that the area of the island is more than 42 000 km and is a part of the Canadian Arctic Archipelago. The coastline is more than 3 000 km. Territory of the island can be divided into three topographical zones: a lowland region in the north-east, central highlands and south-western plateau.
In 1852 McClintock in the team of Edward Belcher reached Melville Island, then made a long sledge trek over 2 000 km. During independent expedition he discovered and mapped the island of Prien Patrick. Also mapped the coastline of several islands, with a total length of which was 1200 km.
In 1857 started fourth trip of McClintock in the Canadian Arctic. He stopped for the winter on the ground Baffionovoy, in 1858 crossed Lancaster Sound and wintered between the island and the peninsula of Boothia Somerset. Then he went on a sled to the south and found traces of the Franklin expedition and his recent letter that explained the reasons for the loss of life.
In 1859 McClintock published a book, in which described his last journey. Later Roald Amundsen passed the Northwest Passage, using data from the expedition of McClintock. In 1871 Julius Payer in the study of the archipelago of Franz Josef Land used experience of toboggan rides of McClintock. The modern map of Russia has one island called McClintock, which was assigned to him by July Payer.
After his studies, McClintock continued to serve in the Royal Navy, retiring with the rank of admiral.
This Day in History
08-07-2014