13th August, 1773 Russian explorer Yuri Lisyansky was born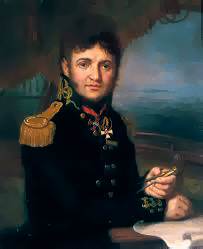 On the 13th of August, 1773 in the beautiful ancient city of Kiev in a priest's family was born Yuri F. Lisyansky. While studying at the Sea Cadet Corps future researcher and traveler be friended Ivan Kruzenshtern. During the Russian-Swedish war of 1788-1790 Lisyansky took part in the battles on the frigate "Podrazhislav" by Admiral Greig. After the war of 1793-1800, he interned in England. During this time, he had already taken up in several trips, including to India.
In Russia Lisyansky returned as commander of the ship "Neva", and under the supervision of Ivan Krusenstern made the first in the history of Russian voyage around the world. The Krusenstern himself commanded the sloop "Hope." During the expedition one of the Hawaiian Islands was discovered, mapped and named in honor of Lisiansky.
In 1803Krusenstern and Lisyansky became the first Russian travelers who crossed the equator. In February, 1804 sloops were swimming in the Pacific Ocean, where Lisyansky headed to Easter Island to explore the coast, locals and nature. In 1804-1805 Lisyansky together with his co-driver studied the Alexander Archipelago and the island of Kodiak. In this period were discovered and mapped the island of Kruzova and Chichagova.
In the autumn of 1805Lisyansky and his crew went to the port of Macao (China), along the road they mapped the reefs of Kruzenshtern and reef of Neva. From Macau expedition went to Canton, and then - in Kronstadt, where he completed the circumnavigation. Lisyansky received captain of the first rank. However, having not received financial assistance to publish his book "Around the World", he resigned.
Yuri Lisyansky died at age 63 on 6th of March, 1837. His son Plato followed his father and rose to the rank of Admiral.
World Map preserves the memory of Yuri Lisyansky. When studying the map, you will certainly find that the name of this traveler on an island in the north-western part of the Hawaiian Islands, on the mountain on Sakhalin, on a peninsula in the northern coast of the Sea of ​​Okhotsk.
This Day in History
13-08-2013