15th May, 1905 was founded Las Vegas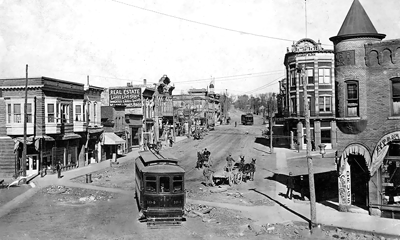 15th of May, 1905 is the official date of the founding of Las Vegas, USA , Nevada.
Topographic map shows that the city is in the heart of the Mojave Desert. The name Las Vegas received in connection with a fascinating history, which occurred in 1829. Caravan traders followed from Texas to Los Angeles and strayed from the right path. Exhausting by thirst under the scorching sun, people went in search of water. Fortunately, in the desert they are lucky to find an artesian spring. The area was named "Las Vegas", which means "Water meadows ". Subsequently, the same name received the city.
It is no secret that in the beginning of XX century Nevada resounded throughout the country, as a state of free manners. Here contracted lightning marriages, performed fierce fighting, and was popular gambling. When in 1919 was imposed a ban on gambling, Las Vegas economy has been undermined.
In 1931 the city acquired new colors when in Nevada again began the era of gambling. In the same year started a grand construction of a unique complex of Hoover Dam as a concrete arch-gravity dam with height of 221 m, which was completed in five years. As a result, on a map of Nevada appeared the largest in the United States reservoir Mead (stretches for 180 km, the volume of water is 35 km³), erected on the Colorado River. It was also built power plant, which allowed for many years to solve the problem of development of the city in the midst of a rocky desert. Currently, however, Las Vegas is experiencing water scarcity. Not surprisingly, since the population is 600 000 inhabitants, in general, agglomeration resides almost 2000 000 people.
In 1940 in Las Vegas were 9000 players, and two decades later, this figure had risen to 64,000. Gambling houses increased exponentially. Because of control over gambling in other states, Las Vegas became the capital of entertainment. Over time, this business has become a major source of income for the city.
Few people know that in the middle of the XX century Las Vegas tourists were attracted by another thing. At a distance of 100 km from the city was a nuclear test site, where the tests were conducted. Thus, typical mushrooms after the explosion of nuclear weapons could be seen from the windows of a downtown hotel.
However, Las Vegas is known not only because of a variety of casinos and entertainment centers. Topographic map of Las Vegas and the surrounding area shows amazing creations of nature - intermountain depression Death Valley, as well as the deepest Grand Canyon, located on the Colorado Plateau, which keeps tracks of four geologic eras of our planet and is characterized by a variety of caves and rocks. All this can be viewed as part of a bus or a helicopter tour.
This Day in History
15-05-2014