17th February, 1860 was born researcher Grigory Grumm-Grzhimaylo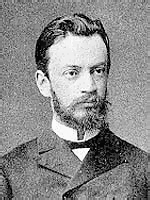 On the 17 of February, 1860 was born Grigory Grumm-Grzhimaylo Russian traveler, geographer, explorer of Central and Middle Asia.
The map of travellers of Grigory Grumm-Grzhimaylo is extensive. In the period from 1884 to 1890, he participated in several expeditions to Central Asia: Pamir, Western China and Tian-Shan , and made ​​a trip to the Middle Urals. According to the results of expeditions Geographical Society elected Grigory Grumm-Grzhimaylo a full member and was awarded a silver medal.
The most important and significant was Asian the 1889-1900s expedition, which was organized by the Geographical Society. The route started from from Jarkent (Kazakhstan), trough East Tian-Shan, and then through the mountains Beishan and Nanshan, alpine Lake Qinghai and finished off the coast of the Yellow River.
During the expedition to the south of the Tian-Shan Mountains near the city of Turpan Grigory Grumm-Grzhimaylo discovered deep basin. He was the first Europen to map and make a detailed description of Turfan Depression in 1889. On the topographic map, you can see that the hollow is located in China and is the lowest point on the territory of East Asia (altitude reaches the Earth is 154 meters). The Turpan Basin is the third deepest area after the Dead Sea and Lake Assal.
Tracing map, you can assess the extent of travel: the total path length was 7250km. The expedition had many discoveries: on a map were marked exact coordinates of 30 locations, defined altitudes of 140 points. Later Grigory Grumm-Grzhimaylo published the work "Description in Western China", for which he was awarded various prizes.
From 1903 till 1914 Grigory Grumm-Grzhimaylo studied Far East, Mongolia and Tuva. The expedition started from the Kazakh city Zaysan, passed the Black Irtysh valley, crossed the Mongolian Altai, reached Harausu lakes, Ubsa, Haranur, then through the mountain ridge Kharkhira Tannuola and finally finished in Kosh- Agach (Altai).
Until the last days of his life, Russian traveler worked in the Geographical Society, wrote articles and books on historical, political and physical geography of Central Asia, conducted correspondence with many people. Letters to the geographer came from England, Germany, France, and of course, from Mongolia and China.
On the map you can find geographical objects, named after Grigory Grumm-Grzhimaylo: glacier in Pamir, glacier at the array Bogda Shan, pass on the Sikhote -Alin.
This Day in History
17-02-2014