17th May, 1498 Vasco da Gama saw the coast of India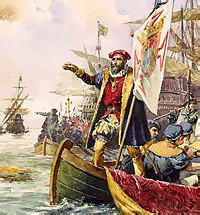 On the 17th of May, 1498 expedition under the Portuguese navigator saw the coast of India.
Surprisingly, but the expedition was led by a young courtier Vasco da Gamma, who was appointed by the king Manuel I. The goal of finding a sea route to India was achieved with the help of the Arab pilot, Ahmad ibn Majid. On 20th of May ships entered the harbor of the city of Calicut (now called Kozhikode). On the map you can see that the city is located on the west coast of the Indian peninsula (Kerala).
The mayor welcomed travelers with open arms. However, Muslims smelled danger to their trade and began to build plot against foreigners. In this regard, Portuguese were not going well, but they still managed to receive gain by selling jewelry and spices. Frustrated by unsuccessful barter Vasco da Gama shot city from guns and sailed home.
In September 1499 expedition returned to Lisbon. Despite all the mishaps, Vasco da Gama was successful from a commercial point of view: for goods imported from India he managed to gain 60 times more money than was spent on the organization of the expedition.
King praised the achievements of Vasco da Gama and gave him the title of Don, and appointed a considerable pension.
To this day, the Portuguese honors the memory of the great discoverer. Now on the map of Europe you can see the longest bridge over the Tagus River in Lisbon, which is named in honor of Vasco da Gama.
This Day in History
17-05-2013