17th October, 1740 during the Second Kamchatka expedition was founded Petropavlovsk-Kamchatsky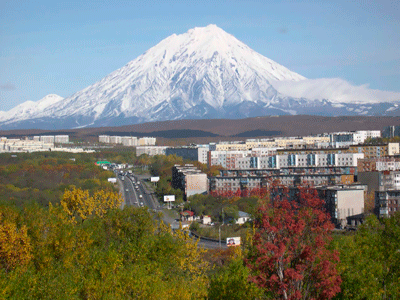 Expedition, which was led directly by Vitus Bering, often referred "to the second Kamchatka expedition." This detachment was given a task to find the way to the North America and islands in the North Pacific.
In September 1740 ships under the command of Vitus Bering ("Saint Peter") and Alexei Chirikov ("St. Paul") have moved to the coast of Kamchatka, but lost in the storm part of the food provision. In Avachinskaya Bay on Kamchatka members of the squad laid jail, which later grew up in the city of Petropavlovsk-Kamchatsky.
The map of Russia shows that the Petropavlovsk-Kamchatsky, the administrative center of the Kamchatka Territory, is located in the Far East of Russia, in the south-eastern part of the Kamchatka Peninsula on the shores of the bay Avachinskaya Pacific. Two active volcanoes Koryak and Avachinskaya hills are situated near the city.
Petropavlovsk-Kamchatsky is named for the ships of the expedition "Saint Peter" and "St. Paul." During the Crimean War in 1854, Petropavlovsk garrison repulsed the attack of the Anglo-French fleet. It is the easternmost city in the world with a population of more than 100 thousand people.
This Day in History
17-10-2014