21st October, 1520 Ferdinand Magellan discovered the strait between the Atlantic and Pacific Oceans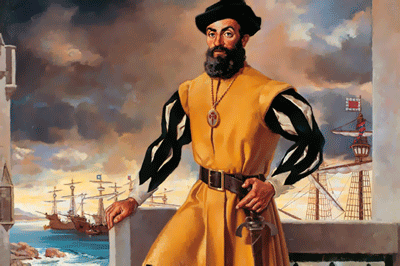 The expedition included five ships with food provision for two years. Magellan himself supervised the loading and packaging of products, goods and equipment. On the 20th of September, 1519 flotilla led by Magellan came from the port of Sanlúcar de Barrameda (the mouth of the Guadalquivir River).
On the 29th of November the fleet reached the coast of Brazil, and on December 26th, 1519 - La Plata, where they searched for supposed Strait. "Santiago" was sent to the west, but soon returned with the message that this is not the strait, but the mouth of the giant river. The squadron began to slowly move to the south, exploring the coast. Advance to the south was slow, often raged storms, winter was approaching, and the Strait was not yet discovered. On the 31st of March, 1520 having reached 49° S latitude the fleet stood for the winter in the bay called San Julian.
In May, Magellan sent "Santiago", headed by Juan Serrano on the south for reconnaissance. In the 60 miles the sailors found the bay of Santa Cruz. Few days later in a storm the ship lost control and crashed. Sailors survived and were on shore without food and supplies. The loss of the vessel, specially designed for reconnaissance, as well as supplies on it, caused great damage to the expedition.
On the 21st of October at 52° S ships were at the narrow strait leading to the interior of the continent. "San Antonio" and "Conception" were sent for reconnaissance. Soon swooped the storm that lasted for two days. Sailors feared that ship was lost. And they are, indeed, were about to die, but they managed to incurred to the shore and in front of them opened a narrow passage which they entered. It soon turned into a wide bay, which was followed by more straits and bays. Both ships returned with good news about the found Strait.
Near the island of Dawson the Strait divides into two channels, and Magellan again separated the fleet. "San Antonio" and "Concepcion" go to the south-east, two other vessels were to stay in the south-west for boats. Three days later, the boat and the sailors returned to report that they had seen the open sea. Soon returned "Concepcion", but from the "San Antonio" there were no news. On the 28th of November, 1520 Magellan's ships were out in the ocean. Way through the Strait took 38 days. For many years, Magellan will be the only captain, having passed the strait and having not lost a single ship.
This Day in History
21-10-2014