23d March 1900, archaeologists discovered the remains of the Minotaur palace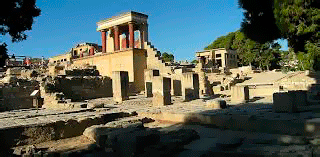 On the 23d of March 1900 Crete archaeologists have managed to find the remains of the famous Labyrinth - Palace Minotaur.
Archaeologist Arthur Evans (1851-1941) led the excavations in Crete, during which it was possible to detect traces of an ancient civilization, the existence of which was not proved. This civilization existed between the primitive and ancient world and was named Minoan. When excavating near the ruins of Knossos, the team made ​​an amazing discovery. It had discovered a palace Minotaur.
The world map shows that Crete is the fifth largest island in the Mediterranean Sea. Modern Crete is one of the most popular resorts. One of the main attractions of which is the archaeological excavations in Gortyn, Knossos, Festa, Malia, the cave of Zeus, Samarayskoe Gorge, etc.
Map of the excavation demonstrates that the ancient Crete was the center of the Minoan civilization, which flourished in the period from 2600 to 1400 BC.
This Day in History
23-03-2013