24th September, 1664 British expedition invaded the Dutch colony of New Amsterdam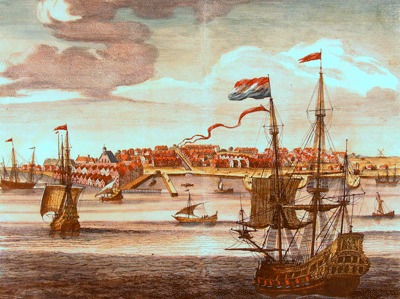 New Amsterdam is the original name of New York in the 1626-1664s.
In 1602, the States-General of the Republic of the Seven United Provinces (Dutch Republic in the vernacular) founded the West India Company, with the task to find the Northwest route to Asia and to the Netherlands to join the newly discovered territory.
In 1609, an expedition of this company under the English navigator Henry Hudson (Hudson) opened, explored and mapped the bay and delta (later received the name of the Hudson River) on the site of the future city. The first settlement of the province appeared on the Governor's Island in the neighborhood of Manhattan in1624, from where in late 1625 was built Fort Amsterdam.
New Amsterdam grew up in the largest settlement in the province of New Netherlands, and remained at the mercy of the Dutch Republic until August 1664, when it temporarily passed into the hands of the British during the war. English King Charles II (Charles II) in 1664 decided to join New Netherland to his possessions in North America, and gave them as a gift to his brother James, Duke of York and Albany, who later became King James II of England (James II Stuart, 1633-1701). James received the title of Lord of the ruler and equipped well-armed expedition of four ships, headed by Richard Nichols, inviting people of the province, together with gubernator Piterom Stёyvesantom transfer their land to the English crown.
In August 1673 the Dutch detachment of 600 men under the command of Captain Anthony Colva (English. Anthony Colve) captured New York and the surrounding area. He called this area "New Orange" in honor of William of Orange and became its governor. The Dutch government, however, did not last long. In 1674, was signed Westminster the agreement of 1674, under which New York was returned to England.
This Day in History
24-09-2014