24th October, 1911 started Antarctic Expedition of Robert Scott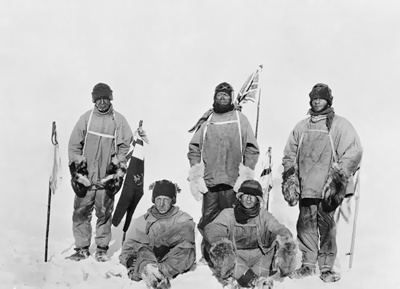 24 октября 1911г.On the 24th of October, 1911 sailed off polar expedition led by Robert Scott. On the ship "Terra Nova" team of 12 people hoped to reach the South Pole. It was the second part of a grand plan to study Antarctica, which was made public by Robert Scott in 1909.
In the first season (December 1910 - April 1911) the crew decided to research the location. They need to make map of the Earth Edward VII (Peninsula, which was discovered and mapped in 1902) And Victoria Land (Antarctica district, located to the east by the Ross Sea and Ross Ice Shelf , the West - from the Wilkes Land ) and western flanks of the Transantarctic mountains mountain range , which is located across Antarctica).
In the second part of the expedition, which was scheduled for October 1911 - April 1912, the expedition need to reach the South Pole, as well to do a number of geological, geographical and climate research. The task was accentuated by the fact that the same goal pursued a rival team led by prominent Norwegian explorer Amundsen Robert. British expedition reached the South Pole only on 17th ofJanuary,1912. That is, 34 days after Amundsen reached it. On the way back Robert Scott perished with four companions, having been on the glacier almost 150 days.
Diaries and maps of the expedition were found 8 months after the death of the team. Suddenly found notes and maps drawn up during the trip, made Scott ​​a hero whose fame obscured Amundsen fame.
This Day in History
24-10-2013