25th January, 1554 Sao Paulo was founded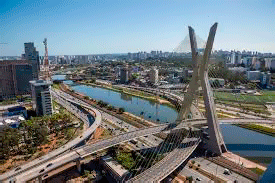 On the 25th of January, 1554 in the feast day of St. Paul's the group of Portuguese Jesuit missionaries founded the settlement of Sao Paulo. Before the arrival of the Portuguese aborigines here was the settlement named Pirating, which means "place where the fish is dried". That, however, is not surprising. If you look at a map, you can see that the city is located 70 km from the Atlantic Ocean.
This village did not attract much attention until coffee barons did not sense that it has high fertility lands. Together with this occasion these lands saw an endlesss tream of workers.
Having studied the map of Brazil, you can see that Sao Paulo is located in the south-east of the country in the valley Thiet. Now it is a large commercial, industrial and cultural center of Brazil. In the XVIII century, the city was the center of rich coffee estates. And exactly here in 1822 Portugal declared Brazil's independence.
The world map shows clearly that Sao Paulo is the largest city (11 million inhabitants), not only in Brazil, but also in the entire southern hemisphere. In today's Sao Paulo colonial buildings almost did not survive. In the center of the city we can see tall buildings, shopping centers, hotels, Cathedral and Opera House. Sao Paulo is very close in spirit to Chicago - the same metal, steel and glass.
This Day in History
25-01-2013