27th May, 1937 "Golden Gate" bridge in San Francisco was opened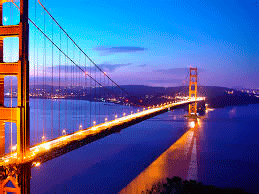 On the 27th of May, 1937 was the grand opening of the bridge, "Golden Gate" with two walkways and six lanes. This great engineering structure is considered to be the most beautiful in the world. Geographic map shows that the bridge connects the southern part of the Marin County (California), and the northern part of San Francisco.
Construction began in 1933, and it lasted for four years. On the 27th of May, 1937 at 6 am the bridge was opened to pedestrians. And only on the next day by a signal of President Roosevelt, the first motorists were able to drive over the bridge.
The bridge, once designed by Joseph Strauss, has now become a symbol of the city. When you open maps online you can often see pictures of this bridge. Thrown across the Pacific Strait, it looks really impressive. The length is 1970 meters. The bridge is suspended on two main ropes of 93cm in diameter, which are attached to the pillars, the height of which is 227 meters above sea level.
Unfortunately, the bridge has a bad reputation and is known as one of the most popular places in the world to take one's own life. During the existence of the bridge in an unconfirmed report about 1,200 people commit suicide.
This Day in History
27-05-2013