28th March, 1793 was born American explorer Henry Schoolcraft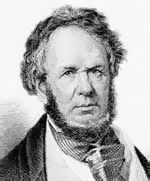 On the 28th of March, 1793 was born Henry Rowe Schoolcraft, American geographer, explorer. He studied Indian culture. It is a known fact that in 1832 he found and marked on a map the source of Mississippi River.
Henry Schoolcraft was born in the family of a glazier; the family business did not attract him. At the age of 25 he began to study the western borders of America. In 1818-1819 he makes the first expedition from Potosi (Missouri), to the places, where today is the town of Springfield. Next he proceeded down the river White River in Arkansas, doing researches in the field of geography and geology and mineralogy. Results of the research Schoolcraft published in the "Review of the Missouri lead mines", where he correctly identified and indicated on the map a lead field. Subsequently, Missouri became one of the leading manufacturers of lead in the United States.
Since 1820 Schoolcraft worked as a geologist in the expedition, the aim of which was to study lands west of the Mississippi River and Lake Superior desert led Lyuissom Cass, territorial governor of Michigan. Travel map shows that the expedition started from Detroit, proceeded along the 3200 km of Lake Superior and Lake Huron, west of the Mississippi went down the river to the place where now is the State of Iowa, and then moved along the shore of Lake Michigan and moved back to Detroit.
During the expedition travelers wanted to find the origins of the Mississippi River and decide on the border between British Canada and the U.S. Researchers passed upstream of Upper Red Cedar Lake (can be found on the map in the U.S. state of Minnesota, now called Lake Cashier). Because of the shallow water travelers could not sail on, so the upper river was named Cass Lake.
In 1821 Henry Schoolcraft was involved in an expedition to Indiana, Illinois and Ohio.
In 1832 Schoolcraft headed an expedition to the headwaters of the Mississippi. At this time, travelers come to the headwaters at the right time when the river was high water level. This allowed to proceed further in Lake Itasca. Topographic map shows that it is a small lake in the shape of a horseshoe located at an altitude of 467m above sea level and it gives rise to the source of the Mississippi.
This Day in History
28-03-2014