28th September, 1542 Juan Cabrillo sail along the coast of California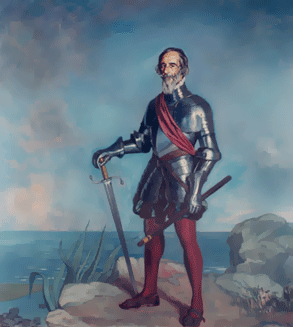 Juan Rodriguez Cabrillo (approx. 1499 - January 3, 1543) - conquistador and explorer of the Spanish crown, the first European who reached the coast of modern California and explore it. Documented information about the origin and early life of the Cabrillo did not survive. Cabrillo participated in the conquest of Cuba and Mexico. In 1521 under the Hernando Cortes participated in the capture of Tenochtitlana. Together with Pedro de Alvarado conquered what is now Guatemala, Honduras and El Salvador. In 1542 he became the head of an armada of ships "San Salvador" and "Victoria", which went from the port of Natividad (modern Acapulco) in search of the legendary Strait of Anian. On the 3d of September ships reached the southern tip of the peninsula of California. On 28th of September armada went to the San Diego Bay. When he reached 40 °N (at the level of Mendocino), he turned back. During the expedition, explorers contacted with the Indians of Chumash tribe. In a skirmish with the Indians Cabrillo was wounded and died on the island of Santa Catalina.
The official report of the expedition of Cabrillo has been lost, there are only a summary made by another researcher Andres Urdaneta, who had access to the ship's logs and maps. Place of burial has also remained unknown.
At the place on the southern tip of Point Loma where explorer landed in 1913 was founded the Cabrillo National Monument. In 1939 there was erected a monument to Juan Cabrillo made by Portuguese sculptor Alvaro de Bree.
This Day in History
28-09-2014