29 June 1789 - Discovery of Mackenzie River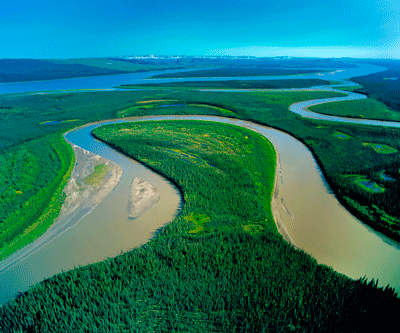 On 29th of June 1789, Alexander Mackenzie discovered the river, later called in his honor. If you look at the map of Canada, you can see the river, which originates in Great Slave Lake, and belongs to the basin of the Arctic Ocean. Navigable Mackenzie River is 4500km long and it is the largest river in Canada.
On 3d of June, 1789 Mackenzie with a team consisting of four Canadians, Germans, three Indians, two Indians and two Canadian women, left the port and headed for the Slave River in four canoes. On 9th of June, they reached the Great Slave Lake, which was covered with ice, and after 6 days continued the way along the coast.
On 29th of June the team found a strong flow. This was the source of the river that ran west. Despite all the dangers and difficulties, the travelers moved on the river and on July 19 reached the Beaufort Sea (on the map of the Arctic Ocean). In the place where the team went ashore, Mackenzie built a pillar, where he wrote his name and the names of all members of the team.
Alexander Mackenzie - a prominent merchant and traveler, a Scot by birth (Stornvey county), was born in 1764. In his youth Mackenzie moved to Canada, where at that time was the development of the western Canadian lands, and entered the service in the fur company. He worked at Fort Chipwine, who built on his behalf cousin Roderick, near Atabaska Lake, located west of Guzonov Bay.
The owner gauged the intelligence of Mackenzie and sent him in river research expedition to the north-west of the fort. Presumably those areas bordered the Arctic Ocean. It was planned to determine whether there is the connection between the Great Slave Lake and the Northern Ocean. On June 3, 1789 the expedition of 12 men went to the river trip. On 12 of September Mackenzie returned to the fort. During the 102 days he and his team in four canoes from birch bark crossed the path of almost 5000 km.
In October 1792 Mackenzie began a second journey to reach the Pacific Ocean. It is noteworthy that no European until that time tried to make this. After having covered some distance by rivers, some by land Mackenzie and his team coped with this task: travelers crossed the American continent and on the 23d of July reached the coast.
In 1801 Mackenzie published a book about his travels in England. His work was highly appreciated, and after the book he received a title of nobility.
Mackenzie made a great contribution to the development of cartography. If you take the map in hand, you can find it on the river plain, the bay and mountains named after him.
He died in 1820.
This Day in History
29-06-2012