29th September, 1513 Vasco Nunez de Balboa crossed the Isthmus of Panama and reached the Pacific Ocean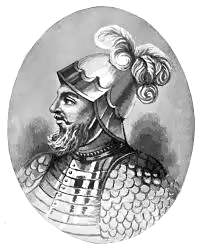 On the 29th of September, 1513 Spanish conquistador Vasco Nunez de Balboa went in search of gold and became the first European who has managed to cross the Isthmus of Panama and reach Pacific Ocean. To the merits of the traveler we can also include the discovery of the Pearl Islands, which soon appeared on maps.
After Christopher Columbus discovered America, Spanish conquistadors went to the mainland for profit. Up to this point Balboa led racket. He lived in Haiti, where he had some land and Indians, but these did give any income. Therefore, Balboa had to go into debt. He was persecuted by creditors and could not leave Haiti, because captains were strictly forbidden to take on boards debtors. However, Balboa managed to get into the barrel and got on with a cargo ship, which sailed to Darenskomu bay. There Balboa managed one small colony, located on the shore of the bay. If you open the map south-western Caribbean Sea, you can this gulf near the coast of Colombia and Panama.
Vasco Nunez de Balboa took away all the gold from the natives, but by the time of the report before the royal court of the Indians there was nothing to take from him. But Balboa did not want to leave the occupied post and decided to gamble. He assembled squad, which included 186 people, and on September, 1st, they went hiking. With great difficulty the travelers made their way out through the mountains and dense forest the Isthmus of Panama. And once Balboa saw boundless expanse of water. He called it the South Sea, and declared possession of Spanish crown, and he himself became the governor. Today, everyone who has ever seen the map of the Earth knows that this is not the sea, but the great ocean of the world. It was the Pacific Ocean.
This Day in History
29-09-2012