Google Ocean- on its way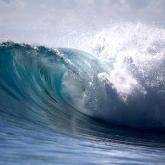 Google does not cease to amaze us. It hasn't been announced yet but rumors say Google is building up a platform that will map the Earth's boundless ocean floors.
According to a report from News.com, the Googleplex in Mountain View, Calif. hosted a group of selected research experts from various institutions to discuss the elaboration of a 3D oceanographic application, provisionally called Google Ocean, for mapping the underworld.
They explain the tool will not be like any other already existing 3D online mapping device. This new tool will provide users with the underwater topography, known as bathymetry, which will even show all depth layers of the ocean, including currents, coral reefs, weather patterns and everything there is to point out in relation to the sea floor, while at the same time allowing users to navigate by zooming and panning on specific spots; you may probably catch a shipwreck or two.
To offer clearer images of the ocean floor, Google will be using high-resolution grids and images in order to show all these aspects of the ocean's topography as well as, surroundings, in greater detail.
"Google will basically just provide the field and then everyone will come flocking to it," predicted Stephen P. Miller, head of the Geological Data Center at the Scripps Institution of Oceanography.
But what makes it all the more interesting is that there's a vast world down there that remains unbeknown and somewhat enigmatic, which could be eventually understood and meticulously explored with advancements such as Google Ocean.
Digital cartography and GPS navigation
05-07-2008