Fogo - New GPS gadget for the travelers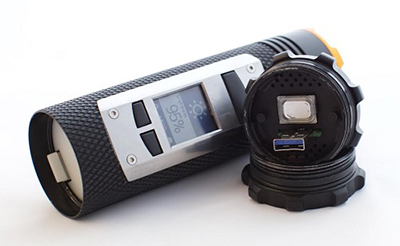 A dedicated team from the United States presented on Kickstarter a project of a universal device for those who like to travel. Gadget with the shape of a small aluminum cylinde, equipped with GPS, walkie-talkie, compass, accelerometer, optical sensor, USB-charging. It also supports text messaging function and the sos signals.
Fogo's key features:
Flashlight - flashlight lights up automatically when you fall to the ground, making it easier to orient in the dark. Adaptive battery configuration allows to follow the intensity of energy consumption in real time
GPS - GPS-system allows you to set waypoints and the final destination. In the mobile application, you can mark a point of interest using a smartphone via Bluetooth or USB, as well as to navigate with a small built-in LED-display
Walkie-talkie - add $50 and you can turn Fogo in radio capable of exchanging voice and text messages with other users of Fogo. If the user moves in the group, the device can be used as a rescue beacon alert to the other members of the group in case of an emergency or a fall
USB Charger - one side of the device has removable "smart cover" can be used as a USB charger. The cover can be changed to another, or perform any other function. In the future, the developers plan to add a satellite modem, avalanche beacon and a laser rangefinder
Open platform - software Fogo allows independent developers to make their unique programs. Already implemented features of synchronization with other "smart" devices.
Currently funds for the project are raised on Kickstarter. If the campaign is successful, all participants, contributed more than $175 will receive a gadget.
Digital cartography and GPS navigation
17-04-2015