1,000-year-old fishing trap found on Google Earth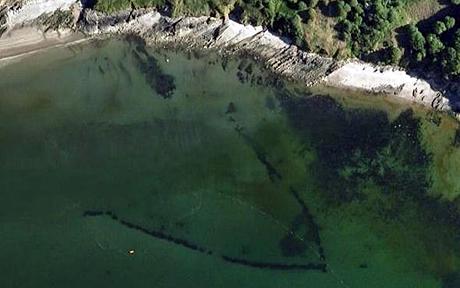 Britain's most ancient fishing trap has been discovered off the coastline of Wales after research carried out on Google Earth.
The 853ft (260m) long construction is thought to have been built 1,000 years ago, around the time of the Domesday Book, using large rocks placed on a river bed.
Scientists believe large numbers of people worked together to erect the trap and it allowed them to catch plentiful numbers of fish for their supper.
The trap in the estuary of the River Teifi, near Cardigan, West Wales, lay undiscovered for a millennium until a strange underwater shape was spotted from a plane flying overhead.
Archaeologists were called in and looked at the area using Google Earth.
They found a huge V-shape was clearly visible on the satellite images and divers were sent down to examine the structure.
The discovery has given them a fascinating glimpse into how medieval communities survived through hunting and fishing.
Fish swam into the estuary but became trapped by the outgoing tide before being hooked out using nets.
Dr Ziggy Otto, a marine environment lecturer at Pembrokeshire College who examined the trap, said: "A large, underwater structure was identified on aerial photographs and there can be little doubt that this rather impressive, and quite apparently man-made, structure is an ancient fish trap.
"Its age is unknown but because of its now entirely sub-tidal position this fish trap is very old, possibly dating back more than 1,000 years, when the sea level was lower.
"It would have taken a number of fishermen to work on a structure of this size. The fish were herded into the trap and when the tide went out they would be scooped out with nets."
The trap is believed to have been made from locally quarried rock, or possibly boulders carried in by glaciers during the last Ice Age.
A recent exploratory dive at the site, near Llanelli, revealed that the structure is about one metre wide and protrudes about 30cm above the underwater sand.
Scientific diver Jen Jones, who undertook the first exploratory dive with Dr Otto, said: "This fish trap is probably the oldest man-made structure in Wales ever to be scientifically investigated by way of scuba-diving. It has now metamorphosed from an entirely man-made structure to a naturally functioning reef."
Louise Austin, head of heritage management at the Dyfed Archaeological Trust, said: "Fish traps were a widely used means of catching fish in the past which made a significant contribution to the economy of many coastal and estuarine communities. Today only a few are known to survive in Wales."
Google Earth was launched four years ago and uses images obtained from satellite imagery and aerial photography superimposed on a globe.
It allows computer users to zoom in on cities, houses and natural features.
Last month some observers thought they had spotted the outline of a vast city on the floor of the Atlantic Ocean, leading to speculation that it could be the lost city of Atlantis.
However, the criss-crossing lines located 600 miles west of the Canary Islands were later explained as an "artefact" of Google Earth's map making process.
Sea floor terrain data is often collected from boats using sonar to take measurements of the sea floor - the lines people saw turned out to be the path of a boat gathering data.
Digital cartography and GPS navigation
24-03-2009