17th May, 1673 started French expedition on the Mississippi River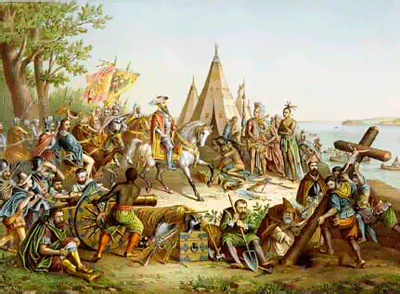 On the 17th of May, 1673 French expedition of 7 people under the leadership of Jacques Marquette and Louis Zhole on two birch-bark canoes went on Mackinac Island, located on Lake Huron.
Main goal of the expedition was to find and study the beautiful Mississippi River, which presented interest at that time. The Government of France has long aimed to find this mysterious river, believing that it carries its waters to the Pacific coast. Authorities looked for those who could realize their ambitious plans. These people became Louis Zhole and Jacques Marquette. Since the early days of the expedition, researchers kept diaries and recorded everything they encountered on the way. Maps and records of Zhole unfortunately have been lost.
Map of the route was made with the help of the Indians: from Lake Huron to Lake Michigan to Green Bay, further up the river Fox, then walk 2 miles through marshland to the Wisconsin River, and then - to the Mississippi. Following arranged plan, the expedition reached the Mississippi.
Strong impression on the travelers made Missouri River, which they reached in July. Marquette wrote: "The tide was so powerful that cross it without fearing for the life was impossible." Mississippi River and Missouri merged into a single stream, but they have long flowing without connecting: along the east coast were clear waters of the Mississippi and the western coast - dirty water of Missouri. Nowadays, this difference is almost not visible. However it is known that up to 1800 for nearly 100 km from the confluence at one bank flowed pure, like a tear, water, and the other - muddy and dirty.
Soon squad met Indians who reported that there have been Europeans. To the mouth of the Mississippi remained 700 km. The French realized that they came to the Gulf of Mexico of the Atlantic Ocean. It was a big disappointment: a long way has not led them to the Pacific Ocean. Fearing a meeting with the Spanish colonists, travelers have turned to the mouth of the Arkansas River and began to return back.
In September, the expedition arrived at Lake Huron. Wishing, as quickly as possible, to share their impressions of travel, Louis Zhole gathered all materials and maps of the expedition and went to Quebec. However, on the St. Lawrence River his canoe capsized, and all documents disappeared under the water...
If we look at the map, we can calculate that the Midwest expedition overcame distance of 4000 km. Travelers were able to determine that the Mississippi, exactly like the rivers that take its top to the west of the Great Lakes, empties into the Gulf of Mexico.
This Day in History
17-05-2014