September, 1871 Miklouho-Maclay landed on the coast of New Guinea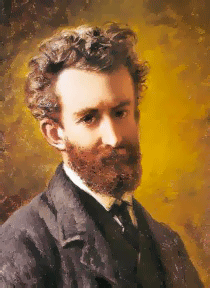 Nicholas Miklouho-Maclay - Russian ethnographer, anthropologist, biologist and traveler, always wondered about the origin and relationship of the human races. He decided to prove the equivalence of the races by making observations among the "savages".
In October 1870 he sailed from Kronstadt to New Guinea. In the 1874-1875 the scientist became the first European to penetrate deep into Malakssky Peninsula and studied the life of the "forest people.
In September 1871 Maclay landed on the coast of New Guinea to the east from Astrolabe Bay and lived there until December 1872, learning the language, manners, customs of the Papuans, winning their love and confidence, patience, restraint, truthfulness and cordial attitude.
In 1874, Maclay sailed to Sulawesi, the Moluccas and Thimphu. From there moved to the west coast of New Guinea, and then returned to Java, where he lived until 1875. In the next two years, he again visited New Guinea, lived in "his" beach and collected valuable anthropological and ethnographic collections.
The scientist concluded that the unity of the species and the relationship of the human races, destroying the unscientific notion of "lower" and "higher" races.
In 1877, Maclay went to Singapore, but there was ill for six months. In 1878 he went to Sydney. In the 1879-1881 period he sailed to New Caledonia and other islands of Melanesia, visited the southern coast of New Guinea.
In 1883 Nicholas went to Australia, then to Java. After spending time among friends Papuans scientist returned to Australia and lived there until 1886, then he returned to his family in St. Petersburg, but a year later (in 1887) at the age of 42 years died, leaving great scientific and literary heritage, and not having published his major scientific works.
On a topographic map after Maclay are named the north-eastern coast of New Guinea and the bay of the Southern Ocean near Antarctica.
This Day in History
17-09-2014