Mountain formaion
The history of formation of Himalayas and Tibetan plateau began about 55 million years ago. In those times India, was an independent continent, clashed with Asian continent. In the place of the clash appeared Himalayas – the youngest and the highest mountain range in the world. At the same time Tibetan plateau was formed, which is the most extensive mountain region in the world. Its average height is 5 km above sea level. That's why Tibet is called "a roof of the world". Continental crust under Tibet attains incredible thickness – about 74 km, two times more, than average thickness of crust.
Mountain formation mechanism
The mechanism of mountain formation was discovered long ago. When two continents clashes in the point of contact rocks are exposed by enormous strength. These strengths crush rocks, gathers it in flexures, compress, deform, and change its elemental composition. Some parts of rocks mount and turn into mountain peaks, others press in the depth of the earth mantel and form "roots" of mountains. Mountain range like Himalayas present in fact thickness of crust, consisting of rocks pushed out upwards and downwards.
Besides, abyssal mantel of the Earth consists of more solid rocks than the earth's crust above it. When the crust becomes thicker it emerges in some way above mantel and mountain range becomes higher. However this descent is balanced by weathering. Influence of weather conditions smoothes little by little mountain peaks.
Mountain peaks
On this photo you can see Annapurna – one of the Himalayas peaks, which height exceeds 8 km above sea level. Up to now these peaks rises to 10 cm in the century, but is weathered with the same speed. Fractions of rocks are carried away in the sea by powerful rivers, such as Gang.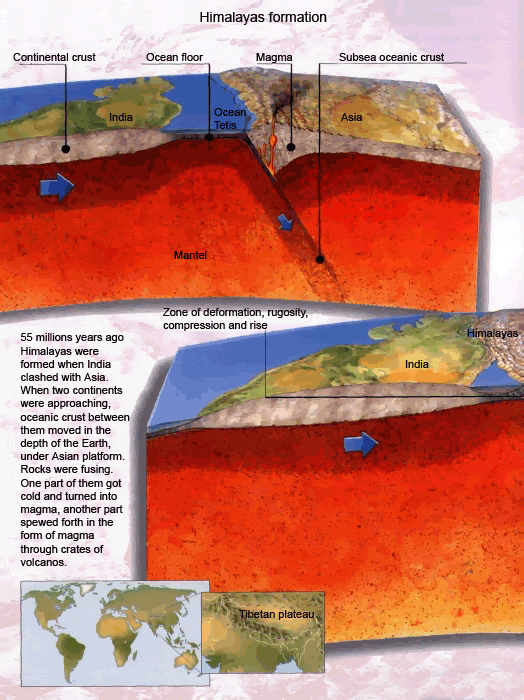 Tibetan plateau formation
This model explains quite well the mechanism of mountain formation of mountain ranges, but still it is not clear enough why Tibetan plateau rose together with Himalayas, the end of which is situated at a distance of more than 300 km from Himalayas. Obviously it has happened like this. When India was approaching Asia, oceanic crust drew under Asia between two continents. This process is called subduction. When two continents clashed the part of India after oceanic crust also became drawn under Asiatic platform, in the depth of mantel. The brink of Asia at the same time pushed up. Rocks of these continents collapsed, deformed and gathered while crashing, the brinks of two continental plates rose up together with oceanic crust thus having formed Himalayas. However deep in the subsoil Indian continental crust didn't plunge into mantel. Its layers have less density than layers of mantel lying under them, that's why instead of plunging down the brink of Indian platform began to move horizontally as if squeezing under Asia. As a result Tibetan plateau rose as one mountain range and the earth's crust in this region obtained exceptional depth.
25 millions years ago
While India was moving towards Asia rocks collapsed into folds. One of them were pressing down, thus forming roots of the mountains, others were going up in the form of mountain ranges. The crust that was lying between two continents shortened on 2500 km and big platform of continental crust with the width about 290 km has probably crept in Asian platform thus raising Tibet.
Nowadays
High pressure changes chemical structure of rocks at the bottom of mountain range. Carrying capacity pushes out mountain upwards, but their peaks are ruined under the influence of wind and water. Subduction of India under Asia continues at speed of 5 cm a year.

Roof of the world
On this photo from cosmos one can see flood-lands of the river Gang (in the left), peaks of Himalayas and Tibetan plateau, covered with snow (in the right).