See where your friends are with Google Latitude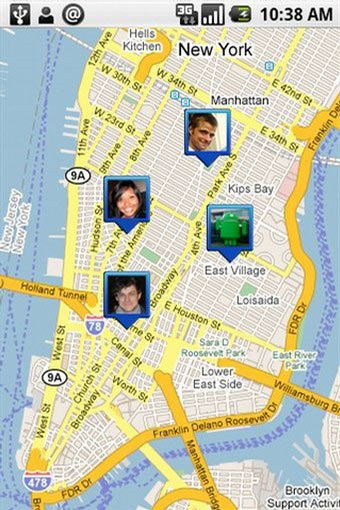 How often do you find yourself wondering where your friends are and what they're up to? It's a pretty central question to our daily social lives, and it's precisely the question you can now answer using Google Latitude.
Latitude is a new feature for Google Maps on your mobile device. It's also an iGoogle gadget on your computer. Once you've opted in to Latitude, you can see the approximate location of your friends and loved ones who have decided to share their location with you. So now you can do things like see if your spouse is stuck in traffic on the way home from work, notice that a buddy is in town for the weekend, or take comfort in knowing that a loved one's flight landed safely, despite bad weather.
And with Latitude, not only can you see your friends' locations on a map, but you can also be in touch directly via SMS, Google Talk, Gmail, or by updating your status message; you can even upload a new profile photo on the fly. It's a fun way to feel close to the people you care about.
Fun aside, we recognize the sensitivity of location data, so we've built fine-grained privacy controls right into the application. Everything about Latitude is opt-in. You not only control exactly who gets to see your location, but you also decide the location that they see. For instance, let's say you are in Rome. Instead of having your approximate location detected and shared automatically, you can manually set your location for elsewhere — perhaps a visit to Niagara Falls . Since you may not want to share the same information with everyone, Latitude lets you change the settings on a friend-by-friend basis. So for each person, you can choose to share your best available location or your city-level location, or you can hide. Everything is under your control and, of course, you can sign out of Latitude at any time.
Finally, since we'd like you to be able to use Latitude with any of your friends, we've been working hard to make it available to as many people as possible. Today, Latitude is available in 27 countries, and we hope to add more soon.
Ready to share your location? If you have a mobile smartphone, visit google.com/latitude on your phone's web browser to download the latest version of Google Maps for mobile with Latitude. Latitude is available on Blackberry, S60, and Windows Mobile, and will be available on Android in the next few days. We expect it will be coming to the iPhone, through Google Mobile App, very soon.
No smartphone? No worries. Visit google.com/latitude on your desktop or laptop to install the Latitude iGoogle gadget and share your location right from your computer. If you have Google Gears installed in your browser (you do by default if you use Google Chrome), you can automatically share your location; otherwise, manually set your location to let your friends know where you are.
Digital cartography and GPS navigation
05-02-2009