The third stage ended and started the forth stage of the round-the-world trip World'sPIRIT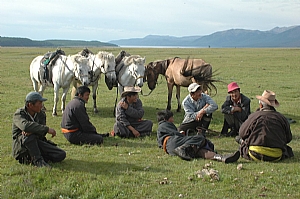 The web site mapstor.com sponsors the round-the-world trip World'sPIRIT by providing topographic maps of different countries of the world.
On September 8, 2008 in the capital of Mongolia Ulan Bator the third stage of round-the-world trip World'sPIRIT has finished. The third stage started on August 22 in Tashante near Russian-Mongolian border, the length of the stage was more than 2.5 thousand kilometres.
Route: Border cross Tashanta - Lake Tolbo-nuur - Hovd - lake Durgun - sands of Mongol-Els - Altai - Bayyantsagaan - South Gobi: Urochische Hermentsav - Nemengetinskaya cavity - sands of Hongoryn-Els - Bogd - Arvayheer - Kharakhorum (Karakorum) - lake Oygy-nuur - Bayannuur - Ulan Bator.
During the stage in Mongolia the participants of round-the-world trip visited many interesting places:
Famous Bayga-Oygorskaya pisanitsa - more than 100 000 rock pictures of animal style, dated 15-20 thousand years old;
Valley memory "Tahit", where 2 thousand years ago happened grand battle between the Huns and Manchzhur tribes;
High mountain cave Gurvan-Tshinher, where more than 40 thousand years ago primitive man was living;
Fold Hermentsav - 230 kilometers of labyrinths of whimsical red rocks, sand dunes and deep canyons.
On the route members of the expedition met for several times with fellow travelers: motorcyclists from Moscow, quad bikers from Irkutsk, palaeontological expedition from Mongolia, U.S. and South Korea, archaeologists from Novosibirsk, a lone-traveler from California, cinematographers from France and Canada and the British students. There were many interesting meetings with the local population: nomadic herdsmen, in whose yurts the participants spent the night in bad weather, gold miners, students of schools, Mongolian traffic police.
On 9th of September started the fourth stage of round-the-world trip, which will cover the route from Ulan Bator to Slyudyanka (Russia).
Travelling with mapstor.com
16-09-2008