The website mapstor.com assists in organizing round-the-world trip World'sPIRIT
The website mapstor.com assists in organizing round-the-world trip World'sPIRIT, which is scheduled to start on August 3, 2008.
Many travelers dream about round-the-world trips. For every person this idea is filled with his own dreams and personal meaning. But there are common features that unite all of these ideas - a sincere desire to get acquainted with other people, nature, the results of human labour and the history of our common home - the planet Earth.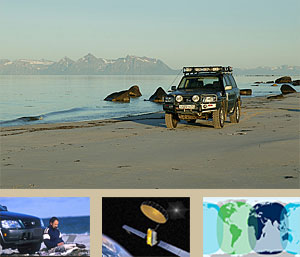 The car gave man the freedom of movement, the Internet - the freedom of communication.
This is the base upon which an open round-the-world trip World'sPIRIT is based.
Project participants are not passengers, they are active members: starting from choosing the route and navigating up to driving the SUV itself.
Basic principles of the project:
Non-commercial project based on self-repayment;
The trip is organized as a united project in the fixed time frame, with full coverage of the globe with a cross all meridians and three crossing of the equator;
In order to attract more participants, the trip route is divided into stages with fixed starting and ending points;
The route is covered by SUV. A transfer of equipment and supplies is carried out between continents by sea;
Press materials of the trip are processed and published. Organizers plan to publish books, photo albums and a film about the trip;
Each participant will find his name in the history of the first open round-the-world trip!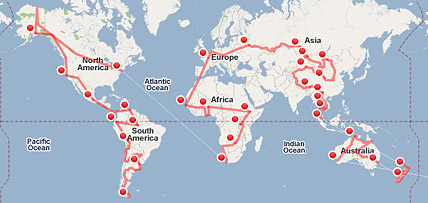 The route of the trip will cover the following countries: Russia, Mongolia, China, Laos, Cambodia, Thailand, Malaysia, New Zealand, Australia, Chile, Argentina, Bolivia, Brazil, Peru, Ecuador, Venezuela, Panama, Costa Rica, Nicaragua, Honduras, El Salvador, Guatemala, Mexico, USA, Canada, South Africa, Namibia, Botswana, Zimbabwe, Zambia, Tanzania, Kenya, Ethiopia, Sudan, Chad, Niger, Mali, Senegal, Mauritania, Western Sahara, Morocco, Spain, France, Belgium, Holland , Germany, Czech Republic, Poland, Belarus.
All details see here (Russian version only).
Travelling with mapstor.com
20-07-2008