The second stage of the round-the-world trip ended and started the third one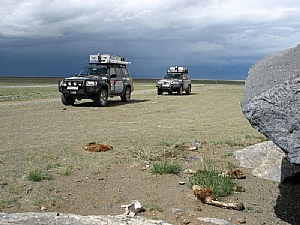 The web site mapstor.com sponsors the round-the-world trip World'sPIRIT and provide topographic maps of different countries of the world.
On 21 of August near the border with Mongolia finished the second stage of the round-the-world trip World'sPIRIT, which started on 21 of August in Novosibirsk. The participants drove about 1500 km. The route: Atlanta - Barnaul - Gorno-Altaisk - Biysk - Aktash - Kosh-Agach - Argamdzhi - Bertek - Dzhazator - Kosh-Agach - Tashanta.
The larger part of the route went through Mountain Altai. The participants visited mountain plateau Ukok (over 2000 meters), where the borders of Russia, China, Mongolia and Kazakhstan meet. It was 200 km of the most difficult parts of this mysterious plateau, which includes numerous fords, highland marshes, ctenoid rocks.
While leaving the plateau Ukok the participants overcame difficult even for SUV passes Karsulu (2448 m) and Bugymyz (2950 m), where participants had to pull each other repeatedly from marsh bogs using winches.
Travelers visited numerous grave burial mounds of Scythian, hun-sarmatskaya, afanasevskaya, pazyrykskaya and Turkic cultures, including the famous funeral of Altai Princess - Tabyn.
The expedition visited the ruins of Huns fortress in the valley of the river Ak-Akalaha, pagan sanctuary of afanasevskaya culture at the Mount Kyzyltas, mighty megalithic complex at the southern part of Chui steppe.
On 22 of August started the third stage of the round-the-world trip, which will go through the territory of Mongolia up to Ulan Bator.
I have ordered a few sets at mapstor.com. I enjoyed everything: the quality of maps, reasonable prices, the way of how the process of purchasing is organized and the website itself – in general everything.
All details see here (Russian version only).
Travelling with mapstor.com
28-08-2008