Bicycle touring routes and topographic maps
Examining world topographic map every cyclist will notice that there are a lot of places in the world where you can travel by bicycle. There are a lot bicycle cognitive routes in the middle and north-western part of Russia as well, e.g. Ural, Altai, Baikal region, etc.
Bicycle tours in Karelia

Nature wealth of Karelia helped it to become popular among amateurs of active and adventurous tourism. Here every person will have the possibility to spend his/her holiday in the way he/she want to for example, rafting along the rivers, hiking, bicycling, motorcycling or even having safari on all-terrain vehicle or snowmobile. Bicycle tours in Karelia are not so complicated as in Ural for example.One week bicycle tour, including rafting or short cruise on motor boat, will cost no more than 13000 russian rubles.
Karelia map set is available for purchasing.
Bicycle tours in Ural
Looking properly at the conventional signs of the topographic map you will see that Ural is one of the eldest orogeny in Russia. Here bicycle tours are held in the most favorable according to the climate conditions region – in south Ural – Bashkiria. If you decide to cycle in Ural it will cost you from 4800 up to 8800 russian rubles, which include one day floating on catamarans. In general tourists can find here a lot of thing to do not to be bored: riding, rafting, hiking, cycling tours as well as combined and survey programmes that allow seeing the most interesting sightseeing in the region.
Ural map set is available for purchasing.
Bicycle tours in Baikal region
Bailkal – is the lake of world popularity and every traveler does his best to visit it at least once in his life. It's the deepest lake on the world topographic map and is 25 millions years old. Nature around Baikal is very contrasting: you can see taiga next to semi-desert, tundra next to steppe. Relief peculiarities of Baikal shore allow compiling very interesting bicycle tours. From high shores you can admire marvelous view over the Lake. One of the most interesting Baikal bicycle tour starts from Taiga region of Primorsky range and streches along south-western shore of Baikal. Further it passes through Tazheranskaya steppe. Six days long bicycle tour along the lake Baikal costs approximately 17500 russian rubles.
Baikal map set is available for purchasing.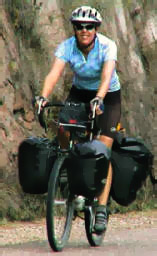 Bicycle tours in Altai
Altai is famous by its wild, impassible taiga, mountain peaks, rivers and lakes. Altai bicycle tours abound in big variety of routes, principally combined one. Bicycle tours expect the participants to cycle, as well as to drive a sport-utility vehicle, ride and raft along mountainous rivers. Twelve days long bicycle tour in Altai costs about 10550 russian rubles.
Altai map set is available for purchasing.
Bicycle tours in Mari-El
Looking on the topographic map you will see Mari-El - small green republic situated on the river Volga. Mari region can be called a region of quietness, a kingdom of mushrooms, berries, birds and animals. If you visit this place once in your life you will remember it for the rest of your life. Bicycle amateurs will be fascinated by primeval world of Taiga. The vast majority of bicycle tours pass along the rivers, through majestic pinery which alternate with deciduous forests, through water-meadows. There are a lot sandy spits near rivers, which make camping places especially comfortable. Seven days bicycle tour in Mari-El republic costs 7500 russian rubles.
Mari-El map set is available for purchasing.
Bicycle tours in Crimea
Crimea is a wonderful place for those who like active or extreme rest,especialy for hiking and cycling tourism amateurs. There are a lot of paths, ground and forest roads, suitable for any kind of cycling or way of spending holidays both multi-day bicycle tours in Crimea and one-day tours with spending a night in the hotel or camping place. Cyclists have the possibility to exclude asphalt roads or to minimize cycling along serpentine. Here also everything depends on your liking. One day tour along Crimea costs approximately 3000 russian rubles for group (from 1 to 4 persons) and multi-day tour costs 7000 russian rubles for group for each day.
Crimea map set is available for purchasing.
Bicycle touring has great future, because each year more and more people become really fond of cycling. In bicycle tours you can see beauty, scenery, town in such way in which a usual tourist cannot see them from the window of the bus, because you are not bounded and separated from outward things. Every moment you can stop to make a photo of the most inspiring you sceneries or just admire and then at your ease continue cycling further.
Speaking about traveling freedom, bicycle is one of the beast means of transportation, because you can cycle practically everywhere: roads, paths, hills, passings. Where there is no possibility to cycle you can easily move holding your bike on the shoulder. Don't forget that if you cycle right, bicycle is also a very good cardio trainer. That's why bicycle touring is considered to be one of the healthiest kind of rest.