Rafting and topographic maps
Rafting – what is that?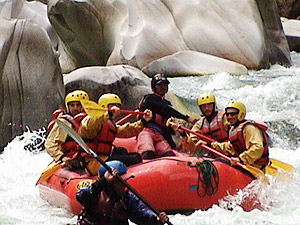 Each year rafting attracts more and more people. Rafting can do a person who has never hold an oar or a topographic map in his hand as well as a very experienced waterman. For beginners it can be really hard to find his itinerary in big variety of tours and while looking at topographic map of the world one can be really puzzled where to go. This article will help you to understand what is rafting, the notion of which very often is not correctly described by tourist industry, e.g. rafting is funny entertainment on water, such a water park.
If you are from Europe then while studying a topographic map of the world you will immediately see that the best place to go rafting is Russia. Russia is very rich on water tours, which are very popular with tourists. People travel here on various water-crafts: boats, yachts, motor ships and admire landscape and lead relaxed way of life.
People, who like active and adventurous holidays, pungent feelings, who like to cope with water, map-reading choose rafting.
Classical rafting
Classical rafting – means to go down the cataracted river on a big inflatable frameless boat – rafts, which are very buoyant, reliable, steadfast on the water and comfortable for a group of tourists (from 6 to 12 people). When such kind of boat appeared, rafting stopped being the privilege of watermen, who traditionally made amateur extreme tours on kayaks and floats for many years.
Last years rafting attracts many people, that's why travel agencies use most of Russian rivers, suitable for this kind of tourism and topographic maps from our resource for organizing commercial tours.Most of floating rivers are suitable for rafting only in several areas of its extension and when definite water level.
On the way to rafting tour
The person, who wants to participate in rafting tour, first of all should determine the complexity of the tour. The complexity of the tour depends on the difficulties which the participant needs to get over during the tour. Separate stones in the riverbed, also rapids – areas in the riverbed that have drop in the water level and attendant waveguide obstacles in the water flow, such as sinks, barrages(standing waves), drums are the difficulties, which can be met in the water flow. Drums are areas with contra flow that appear in the place of water fall from sink. They are very dangerous because they put obstacles in the way of raft's motion and take it back under the water flow where the raft can turn over. According to the International Classification each area of the tour is given one of 6 ranks of complexity: the higher the ranks is, the most serious and dangerous are the difficulties, then the more extreme is the tour.
Who you are: regular or extreme traveler?
Tours for beginners without any special training do not contain difficulties of higher than 3d complexity, although that doesn't mean absence of extreme situation, but it wouldn't be dangerous just surge of adrenalin in the blood. The person, who needs adrenalin in larger quantity, is offered special tours and even expeditions, but still participation in such adventures needs experience and previous floats on surgy rivers.
While on board the raft
During the floating the tourists are sitting on board the raft and row under the direction of the instructor, the presence of which is obligatory in commercial tour. Instructor should be a very good map reader, who can recognize on the map the conventional signs of big stones, rapids, sinks, barrages, drums, as well as water depth, relief height, river width. If the route is not complicated the tourist may have no experience in water tours. The instructor gives simple commands, concerning the direction of rowing, which participants are expected to fulfill maximum exactly. If the tours are too complicated very often travel agencies hire professional sportsmen as an instructor.
Why rafting is so popular?
The popularity of one or another tour consists of several factors, wild emotions from passing rapids are no more important than presence of natural, cultural and historical sightseeing, convenience of transportation to the beginning of the route, conveniences while using equipment and supplies. Rafting – is not only rowing, but stops in picturesque places with all following tourist entertainment: cooking on fire, sleeping in tents, guitar songs.Mostly rafting tour is a multi-day traveling. However, for those who is not familiar to this kind of sport there are day off tours.